Has anyone else watched 'What the Health'?? My boyfriend and I decided to watch this exactly 2 weeks ago. I first heard about the film from my microbiology teacher who had emailed us a few weeks after class recommending we watch it because some of the material we went over in class, discussing the dangers of factory farms on the environment and human microbiome, was also discussed in this movie. So here we are, my boyfriend and I, on Thursday night trying to decide what to watch, a common discussion since we don't have cable. We both care about our health and make conscious decisions to eat organic and watching a film to reinforce that sounded like a great idea. And we definitely got more than we bargained for, not only did it reinforce the organic choices it also effectively exposed the factory farm meat industry and answered why we as humans, physiologically, are not made to digest animal protein. This is not a new conversation, depending on who you follow on Instagram or where you get your news, this issue of eating animal products is in constant debate. And I'm not writing this blog to try to convince you to not eat animals however my purpose is spread awareness and gain perspective as to where your food comes from. Ask yourself this: Is what I'm eating benefiting my body? Are farm animals nutritious for us? And is breeding a species for slaughter really something I want to be apart of? The old saying 'you are what you eat' could not be more true.
If you are up for the 'Vegan Challenge' like I was, start with 2 weeks eating a vegan diet and see how your body feels. I'm almost 100% positive you'll like the results. And that's how I started. I've always loved vegan cuisine but I wasn't strictly vegan all the time, in addition, I really enjoy eating vegetables so going animal free wasn't exactly cold turkey for me. I guess in a way I was working my way up to being vegan. But it all started a few years ago when I started excluding beef from my diet after I had a few incidences where after eating a steak or beef I had excruciating pain in my stomach. More recently I started becoming turned off by chicken because of the sodium and just stuck to fish. And after watching this film and learning fish doesn't come from a more healthier place than beef or chicken, I started my first 2 weeks on a strictly vegan diet and I definitely want to continue longer. Its funny when you tell people their first reaction is 'why'?? And I get it, our culture is fueled by eating animal products for protein. Eating out is the biggest challenge as well, there is usually only 1, if any, food item that is considered vegan. The most popular question I get, from family and friends I share my new diet with is, 'Do you miss cheese or meat?' or 'Do you have any cravings?' and to be quite honest, I don't. I'm typically the person who loves eggs for breakfast but I've replaced my eggs with a kale smoothie and haven't looked back. Not to say to become vegan you can only have kale smoothies, that's just what I chose for my morning nutrition. There are egg alternatives and very creative ways to make food taste just like what we're used to.
Another common question I've received when discussing my vegan diet is 'You must feel amazing?' and the answer is YES. I've noticed a difference is my skin (its much softer), my stomach (zero bloat) and the fitting of my clothes (my 'skinny' clothes are fitting). My original thought was to recharge my body and restore my immune system by eating a plant based diet and now that I've seen these other benefits its hard to stop. I'll share some foods I've been enjoying while not eating animal products in addition to the supplements I take.
In the morning I start off with a cup of Ginger Tea and water then Green Tea: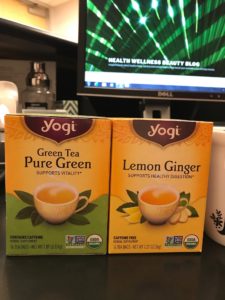 Then I do a Kale Smoothie, I've included the recipe from Dr. Rhonda Patrick; Ultimate Micronutrient Smoothie
For my first dinner recipe I tried was Chickpea Curry, this image is from Pinterest where I found the recipe, which I'll tag here too.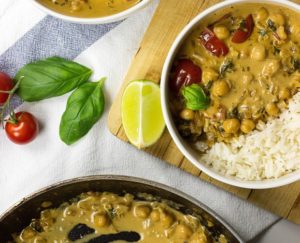 I also tried an alternative version of the Chickpea Curry using other ingredients, adding cauliflower and red bell pepper: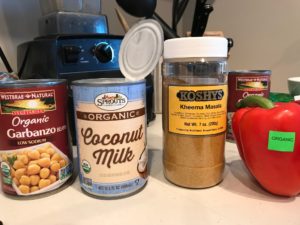 Another yummy dinner go to was the Veggie Burger, the ones I like the best are from Don Lee Farms which can be found at Costco: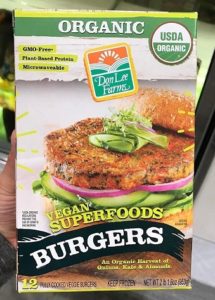 Another recipe I tried at home was Tofu Lettuce Wraps, my boyfriend wasn't a fan but I really enjoyed them plus I roasted red cabbage with garlic from the night before: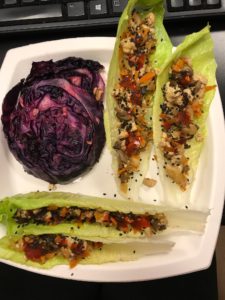 The last few plates we found at Vegan restaurants: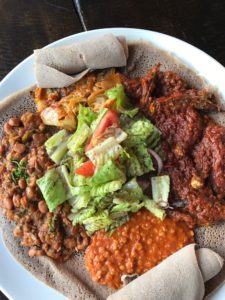 While visiting my parents we found this awesome vegan place in San Jose called Good Karma Cafe: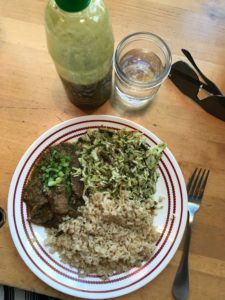 And during a girls night with my girlfriend Patty I found the only vegan option at one of our favorite restaurants: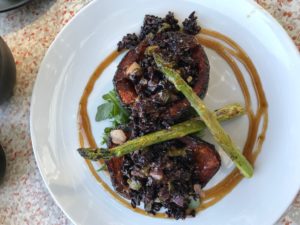 The supplement I take for now is Vitamin B12. I also take probiotics but I've done that since before my vegan diet change. All of these foods I just posted were both delicious and satisfying. While I'm exploring vegan options I forget I'm not eating meat or animal products.
For my final thought, I wanted to acknowledge the fact that when you're trying a vegan diet there's no such thing as perfection. When I go online veganism seems like a cult in that you're not a true vegan if you eat honey, for example. There are different perspectives and levels, if you will, to the vegan diet but as long as you have good intentions to make a healthy choice not just for you but for our environment and other living beings, I think that's what it is all about. Any change is hard especially when eating meat is part of our culture but if you are truly committed to making that change, IT IS POSSIBLE.
**Also word or words that are underlined have links attached to them with either recipes or where I got the content**