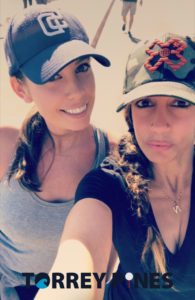 Having a Monday off is probably one of the best perks ever. I enjoyed my Monday by going on a hike with me bestie at one of our favorite places, Torrey Pines in beautiful La Jolla, CA. The views are spectacular and picture worthy not to mention the crisp ocean air against your face, super dreamy.
Little did we know we were in for quite an adventure. Mid way through we started noticing families walking from the beach back up the hill. Thinking nothing of it we pressed on. When we finally reached the bottom of the hill to the beach we figured out why so many people were walking back up. HIGH TIDE. I've never seen the ocean as high as it was, we usually have 10 plus feet between the bottom of the hill and the ocean. We both looked at each other thinking 'can we make it??'  We saw 2 moms with babies in baby carriers taking on the challenge of possibly being in waist high water and figured if they can do, so can we!
Needless to say we survived! Between rock hugging across thin ledges and waiting for the water to subside in some areas we made it across back to the beginning of the trail feeling so accomplished. We both turned to each other in relief when saw dry land thinking 'what an obstacle!' We could've easily turned back but we stuck it out, proud of us.
Afterward we enjoyed lunch in Del Mar where we were reminded why we have this day off, Martin Luther King, Jr. One of the managers of the restaurant we lunched at decided to share some photos with us. I didn't really know where the conversation was headed when we came over to us as we sat down but he was eager to share his photos. He took out his phone and said that one of his friends was named THE photographer for Dr. King. And he showed rare photos saying his friend kept them because he knew what an impact Dr. King would have in our lifetime. We were blown away, it gave me chills. One of my favorite quotes:
Yesterday was perfect, not only did I get to spend quality time with my best friend and eat delicious food but also received a history lesson. LOVE.