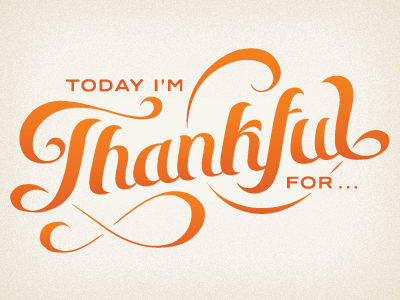 I love Thanksgiving because it's a day that allows us to reflect on what we're thankful for. This Thanksgiving is a little different for me because I'm continuing my vegan lifestyle which means no turkey for me. For most this seems limiting but in my view I'm not missing turkey but rather I'm able to expand my taste palate and see what other food choices I can enjoy. And I think that's what being a vegan is all about, not trying so much to mimic animal protein food but enjoy and appreciate the tastes and flavors of creative plant based food. So for that I'm extra thankful, for being able to not only have food available but food that is ultra nutritious to my body.
I'm thankful for my family. I'm thankful for my Mom, first, for sacrificing her body to give me life. I'm thankful for her unconditional love. I'm thankful for my Dad for always providing for our family and being a great partner for my Mom. I'm thankful for my sister Vanessa and her compassionate soul especially toward animals. I'm thankful for my sister Rebeccah and her persistence with school, inspiring me do to the same. I'm thankful my brother Jeremy and the sacrifice he has made to be a United States Marine.
I'm thankful for my boyfriend, my life partner. He wakes up early with me every morning and makes our green smoothie before going to the gym. He's considerate, kind hearted, loving and oh so dreamily handsome. I'm thankful for his parents for raising and loving such an amazing human being that I get to love and share memories with everyday.
I'm thankful for my friends that turn into family, for their support and love. I'm thankful for my study buddy and my teachers that have helped and supported me get where am I with my studies and my goals.
I'm thankful for yoga and my listening sessions with Deepak Chopra when I drive to work in the morning.
I'm thankful for being able to travel the world and experience different cultures, people and food.
I could be here all day writing what I'm thankful for. But ultimately I'm thankful for this wonderful life I get to live and the inspirational people in it.
What are you thankful for?
Melissa